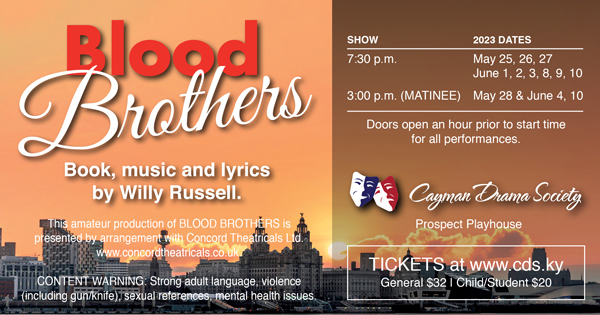 Did y' hear the story
Of the Johnstone twins?
As like each other as two new pins
Of one womb born, on the self same day,
How one was kept and one given away?
Blood Brothers is a haunting, yet often comical, musical about twins separated at birth. It looks at how life can be very different depending on what you are born into, and what privileges are (or are not) handed to you on the way. Watch Mickey and Edward grow up through childhood, their teenage years, and the transition to adult life alongside their two very different mothers, and love interest Linda. Come laugh, cry, and immerse yourself in Liverpool from the 1950s to 70s! Brought to you by Willy Russell, the same writer who gave us Educating Rita and Shirley Valentine.
**CONTENT WARNING: Strong adult language, violence (including gun/knife), sexual references, and mental health issues.**
Run time - approximately 2hrs 30minutes plus interval
This amateur production of BLOOD BROTHERS is presented by arrangement with Concord Theatricals Ltd. www.concordtheatricals.co.uk.
Adult for CI$32.00
Child/Student (please see content warning) for CI$20.00
Sold Out