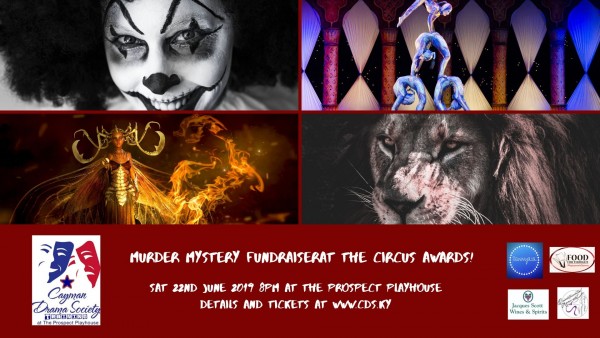 Well who knew there were four different circuses in Cayman?! There aren't. But for one night we will bring them all to life in the name of charity. We have four different companies "competing" for the top awards in the circus business. For one night only, you can finally live your dream and RUN AWAY WITH THE CIRCUS! To raise money for scholarships at our summer acting camps, we are hosting an interactive murder mystery night. In 2017, we held our first fundraising murder mystery and set it at a soap opera award ceremony, this time we set it at the Annual Cayman Circus Award (aka THE RED TOPS)!
Our circuses are:
RED TOP CIRCUS (our big red top circus includes clowns, jugglers, tight-rope walkers, magicians and all your favourite things from your childhood circus memories)
CIRCUS HORRIFY (sword swallowers, a real life mermaid, lizard man, and many more - this circus is freaktastic and proud of it)
ACROBATICA CIRCUS (trapeze artists, gymnasts, tumblers and more - this circus is full of talented, bendy, and often upside down people).
ANIMALISTIC CIRCUS (lion tamers, snake charmers, and elephant handlers - animals from all around the world are featured in this circus). Please note this circus has had several run-ins with PETA, and we will be monitoring them closely
You can choose whether or not you risk a speaking role (limited tickets available). You may end up murdered, you may be killer or you may even win an award. You will be sent a character description a couple of weeks before the event so that you have time to choose a fitting and glamorous outfit (you can dress for the award ceremony itself or as if you came straight from the circus), and instructions on writing a speech, along with your character clues. If you choose a non-interactive role then you can dress up, sit back, and watch the chaos unfold. This evening of magic, and mayhem, will include performances from Reno Ciantar, and special aerial performances from Quintessential Movement and Renee at Sannyasa.
Get there early for our red-carpet paparazzi to snap your picture like a star, and celebrate in style at our Curtain Call Bar!
Doors will open at 7, auditorium opens at 7.30 and the awards start at 8pm.
Tickets cost $40 and include finger food (sponsored by Food For Thought), and a welcome drink (sponsored by Jacques Scott). All proceeds will go to our educational fund, for our scholarships and performances.
**Due to the nature of this event this is an over 18s only fundraiser, and it will include adult language and content.**
Interactive role: You will be sent a character synopsis prior, on who you will become for the night. You may be nominated for an award, you may even win an award and give a speech. You should be confident enough to mingle with other guests whilst staying in character. You won't know the ins and outs of awards until the night. This is a great option for those confident enough to get more involved and those who want an acting challenge! PLEASE NOTE - you can narrow down which circus you end up in when you buy your tickets. If you are coming in a group, and want to be in the same circus, please book together so we can cast you accordingly**
Non-interactive role: With these roles, we ask that you come dressed up to your part, you will be given a title rather than a description. You are guaranteed not to be asked to come on stage or nominated for an award. A great choice for those who just want to come and have fun without the pressure of suddenly being involved.
PLEASE NOTE TICKETS SHOULD BE PURCHASED BY MAY 31st SO THAT WE CAN GET CHARACTER DESCRIPTIONS OUT WITH NOTICE.
Interactive role - RED TOP CIRCUS or ACROBATICA for CI$40.00
Interactive role - CIRCUS HORRIFY or ANIMAL for CI$40.00
Non-interactive role for CI$40.00
Sold Out